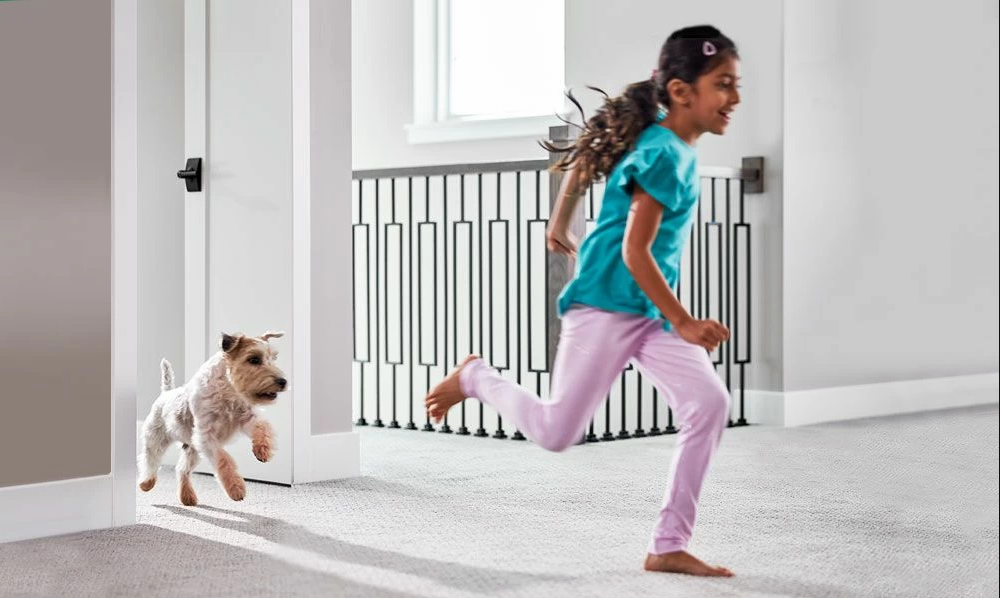 Spots Illustrated Newsletter - October 2019
FRIDAY, OCTOBER 11, 2019
Hey there!
Surely, it is not October already?  Oh my how time flies!  Sorry to sound cliché, but it feels like this year is just zipping by in a hurry!  We wanted to let y'all know about a special discount that is being offered for the month of October, as well as a few other updates like our building progress, camper life, and an exciting new Chem-Dry Service!  If you would rather skip to the promotion for October, you can skip to the bottom of the page.  
On A Personal Note...
I'm sure some of you remember the goal I had set to send out a quarterly newsletter this year.  Well, life has sure been happening, but unfortunately, the newsletter has not.  So, to our wonderful clients, thank you for your grace and loyalty to our small, family business.  As some of you know already,  we sold our little piece of South Austin in August of last year and moved into a fifth-wheel in Dripping Springs.  Fourteen months into our camper life and what have we learned?  First of all, when you plan to build a house from the ground up you may think you know exactly what you want...  We have learned very quickly that what we thought we wanted was not actually what we really wanted.  In order to reduce our building expenses, I personally drew the floor plan sketches myself.  I have spent a lot of time on this crucial part of planning our future home.  I mean, A LOT of time!  I have crumpled up so many pages of grid paper and burned through so many erasers, I could have built a tiny house with them.  Fortunately, I have enjoyed it.  Derrick however, not so much.  He has been asking why I keep changing things he liked just fine.  With all that said, I am happy to report that we finally have a solid floor plan!  Even Derrick will now admit that, even while the numerous changes and do-overs have felt frustrating, he thinks that we have the best version yet.  I have considered the possibility that he is just saying that in hopes that I will not, yet again, abandon ship and dive back into the ocean of paper and erasers.  But, for everyone's sake, I am going to believe him!  I know that after talking to some of our clients about their builds and remodels, and have lived to talk about it, our "solid floor plan" will still have a few tweaks and changes to come, but all minor... hopefully.  In addition to building our house, we are planning to build a detached casita for my mother.  While we could all live together under the same roof, I'm sure everyone will appreciate their own space and privacy.  We are so happy to be in the long-awaited underwriting phase of our construction loan so let the countdown to closing begin!  
I will keep this next bit as short as I can as I know I went a little long above.  I may be repeating myself a bit from a previous newsletter, but for those that did not see it, here it goes.  We got a great deal on a 2010 Forrest River Fifth-Wheel in impeccable condition and it is huge!  It has a bunk house with two full size beds, two twin beds, a king bed in the master, a queen size sleeper sofa, dinette that converts into a bed, two bathrooms, a nice-sized shower, and the world's tiniest counter space in the kitchen.  M&A, now eight and ten, still love it.  M has expressed that she is excited to have her own room for the first time.  A, while thrilled to have his own room, is a little more concerned about not having his sissy for bedtime.  They are each their own little, unique person, that is for certain.  The biggest struggle the camper is cooking.  I know we have it good, but I think I am just a messy cook.  I need, well want... to chop veggies, roll out dough for biscuits or tortillas, and bake cookies all at the same time.  While "tiny country living" has made us adjust the way we do things, we still do the things we have always done.  My friends and family regularly remind me that I must be crazy because on five separate occasions, I have had between two and eight additional children over to stay the night.  It definitely makes for a unique experience!  But, I always enjoy making breakfast for the masses in my said "tiny kitchen."  One last thing and then I will move along.  We bought a used upright, propane smoker and it is amazing!  It is basically an outdoor oven, as long as you leave the wood chips out.  We have had fun using it this summer, instead of heating up the inside our tin can... I mean, camper.  Okay, I guess I lied.  That was not really any shorter than the first paragraph so my apologies for that!
Our New Service...
Okay, I promise to keep things short and sweet here on out.  We are just over one year into running a two-van operation; Derrick, who mostly services Hays, Comal, and South Travis Counties, and our technician Russell, who primarily services North Travis, Williamson, and Burnet Counties.  Russell has been such a blessing to our business and we are so glad to have him working with us! 
In May of this year we expanded our services to include Wood Floor Cleaning, Stripping, and Polishing!  If you are unsure if you want or need your wood floors serviced, we are happy to extend an offer for us to clean one (1) area for free to see the results.  This is good for up to 150 square feet in one area, around existing furniture.  As an extra note, we only have one wood floor machine so if this is something you are interested in, please let us know when you schedule your appointment so we can be sure to coordinate accordingly.  At the bottom of this email, make sure to also check out the full list services that your favorite Austin-area Chem-Dry offers.  As always, keep in mind we are more than just carpet cleaners; We are your Healthy Home Experts!
Ask Mrs. Know-It-All
"Dear Mrs. Know-It-All,
I am considering investing in a new area rug.  There are so many options when it comes to rugs, but I am uncertain of the best option.  I love the look of sea grass rugs and I have seen them all over Pinterest, magazines, and even a few of my friends have them.  Is it resilient as I think they are?
Signed, 
Anxious and Reluctant Rug Shopper"
Dear Anxiously,
Oh the minimal, yet modern, but rustic, and neutral sea grass rug...  Sea grass is derived from the same family of natural plant fibers like sisal, jute, and hemp.  These fiber types are even available in wall-to-wall carpet.  The earthy texture and shade adds a relaxed natural vibe to any home.  How I wish they were all that we hoped they would be.  The practical side of me is speaking louder than the fun and rambunctious side of me.  I will try to let you down easy, but it is not what I would like it be.  I will give some pros and cons.
The Pros:
The are gorgeous, yet simple.  They fit into both upscale and modest homes and can bring those earth-tones indoors.
Look great for layering.  This design concept that, when done right, is super pleasing to the eye.  Sea grass and other plant fiber rugs are a great addition to your layered design.
Environmentally friendly.  Obviously, sea grass is made of a fast growing and sustainable plants.
The Cons:
Clean-ability.  We unfortunately have had to tell some of our clients on more than a few occasions that their sea grass rugs are not likely to clean up very well.  Spots, while minor on other fiber types, often are permanent stains on plant-based fiber rugs.
Not moisture friendly.  Due to the fact that they are made of dried plant leaves, it will absorb any moisture available.  With added moisture there is an increased chance of discoloration and fiber distortion.  The organic, water-loving nature means it can also be prone to mold growth.
Stiff feeling.  This is more of an opinion rather than a true con, but nevertheless something to consider.  If you have a living room in mind for your rug, just keep in mind that it's fibers are course and itchy.  If you like to hang out on the floor or have a little tot crawling around, you will likely want to consider a softer rug.
In conclusion, if you are considering a sea grass (or another plant-based fiber) rug, just know it may not be a long term part of your home.  If you have a less trafficked area in your home, I would suggest that be the best spot for your new rug.  There are many options when it comes to choosing a rug so feel free to contact us with questions before you make your next purchase!  You can submit questions through email or even our Facebook page.
Pet of the Month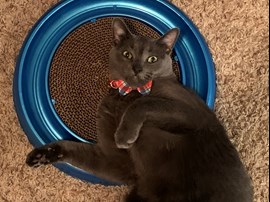 Meet Church and his cute little bow tie!  This happens to be our technician Russell, and his girlfriend Laurie's, Russian Blue baby boy.  At four years old, he was rescued from the College Station area and has turned out to be a little different than most cats.  He loves to lay on the couch with them and watch tv.  He eats up the attention and love.  But, owning a pet always comes with some... accidents.  It turns out Church does not like it when pillows are left on the floor.  It has only happened once, but Church let Russell and Laurie know he did not like it by unfortunately peeing on the pillow, which in turn got onto the carpet.  Thankfully, our Pet Urine Removal Treatment came to the rescue on the carpet, while the pillow found a new home in the trash.  All in a day's work in the life of a Healthy Home Expert and a cat owner, it turns out!
This Month's Special
For the month of October we are running a multi-service special.  What that means is that if you choose two our more of our services (including our new Wood Cleaning Service) to be completed in one appointment, you will receive 15% off all services.  This special is subject to the minimums per service and can not be combined with any other offers.  Keep in mind, October is usually a busy month due to the upcoming holidays so there may be limited openings available.  We suggest allowing up to two weeks for scheduling, just to be safe.  Please let us know if you would like to take advantage of this current special as it only last for the remainder of the month.  Don't forget to share this special with your family, friends, and neighbors!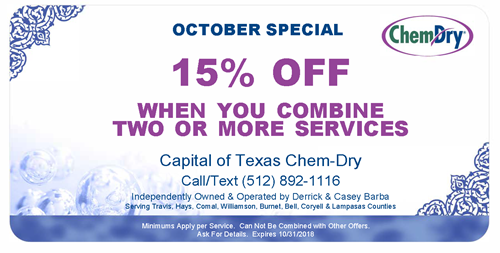 Our Services
Carpet Cleaning
Specialty Pet Urine Removal Treatment (PURT)
Tile & Stone Cleaning & Sealing
Natural Stone Polishing
Upholstery Cleaning
Leather Cleaning
Area Rug Cleaning
Granite Countertop Cleaning, Sealing, and Polishing
Wood Floor Cleaning, Stripping, and Polishing
Thank you for reading and I will try to make the next newsletter a little shorter!
Blessings,
Derrick & Casey Barba
Capital of Texas Chem-Dry
(512) 892-1116
CapitalTexasChemDry.com
BACK TO BLOGS